Join us for a skills review class, as we hike around our 250-acre wood. There are already dawning signs of spring on our campus in early February. We will explore which plants leaf out first in late winter, which deciduous shrubs keep their leaves that first winter, and differentiate all the various types of "pine cones," on the forest floor. If you've joined us for trees & shrubs, tracking, and our lichens & mosses class, you can dig a little deeper with more time in the field.
Didn't attend the other sessions? No worries, – know you're welcome to explore with us, and remember that anyone is a naturalist if they are a student of the natural world. This is a great overall skill-building session for newbies too. Bring your sense of wonder, questions, and knowledge to share with others. We'll see you there!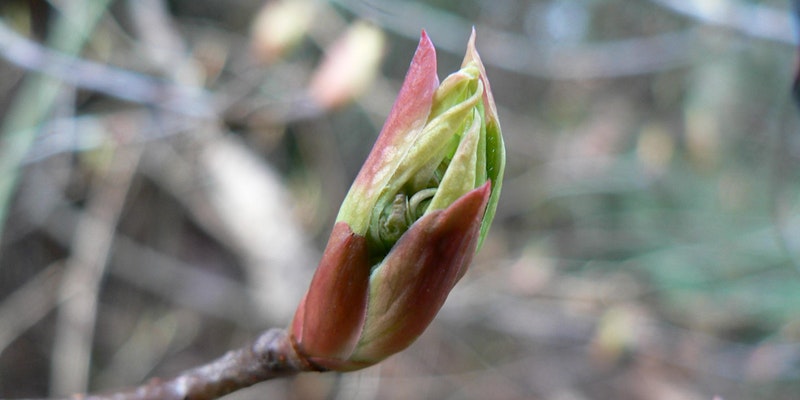 Your instructor for this session will be IslandWood staff naturalist, Christina Woolf. Christina is a Master Birder (Seattle Audubon, 2011), WDFW Wetland Monitor (2014), Certified Beach Naturalist (2014), and Certified Interpretive Guide (National Association of Interpretation (2015), and has been joyfully teaching environmental education for over 20 years.
THINGS TO KNOW
This class is rain or shine, so please dress in layers and always bring a rain layer, gloves and hat at this time of year.
Due to the content and pace of this program, we are listing this as an adults only class. We look forward to building community with all of you in this class. We will offer a family-friendly and kids program like this in the future too, so no worries!
We always cap off our hikes with a sweet treat of our homemade cookies too!
Service animals only, please.
Accessibility
We work to ensure that all reasonable accommodations are in place so that everyone can fully participate and learn during their time on our campus. All indoor spaces and many of our outdoor spaces and field structures were built and are continually maintained to meet ADA code, adhering to WAC 51-50. Learn more about the physical accessibility of our campus here.
IslandWood is grateful for the support from the Fletcher Bay Foundation.