The Indipino Community of Bainbridge Island and Vicinity is hosting this drum-making workshop led by Alice Guss Harry, Squamish Nation, BC, Canada. Alice will guide you through the making a Native American hide drum and teach you a traditional song in celebration of Indigenous People's Day.

The workshop has a $25 participation fee, payable in cash the day of the evet to the Indipino Community of Bainbridge Island and Vicinity, in addition to the cost of your drum kit and stick. Upon registration, you will receive a link and details to order your kit from Centralia Fur & Hide. Drum kit prices start at $25 for a 10″ drum kit with deer or elk hide. Please do not order your kit until your reservation is confirmed.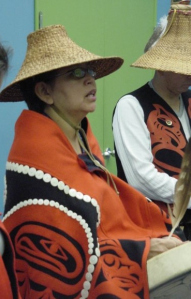 About Alice:
Alice Guss Harry is a member of the Squamish Nation in BC, Canada. She specializes in facilitating workshops that provide innovative learning opportunities for students in drum making, wool weaving, cedarbark, traditional medicine, plant and forage walks. For 20 years, she has been delivering Sacred Drum making workshops that include storytelling, hisory and legends and dancing. She's a participant in healing Tribal Journeys and has co-produced a number of documentaries including Squamish Nation, including: Stories from the Heart and Tribal Journeys.  During the 2010 Olympics, she coordinated her family's Sea Going Canoe display and her family shared songs, dances, history to the Czech Republic Bobsled Team. She is the former Associate Director of Education for the Squamish Nation, BC, Canada.