This event is sold out, however, we have space in our Afternoon on the Trails event on April 24 and Springs Skills of a Naturalist: Wetland Ecology on April 28!
We wait for spring all year, and before we know it, the bracken ferns are waist-high! Come along with us to learn how to confidently identify wild spring plants that are edible and medicinal. You'll meet some old favorites (like stinging nettle), and discover some lesser-known species as well. We'll forage and nibble on plants we find, and explore botanical language on identification and plant anatomy.
You'll walk away with a new appreciation for native plants, their nutritive and ecological value, and even learn a few "weeds" that you can add to your salads!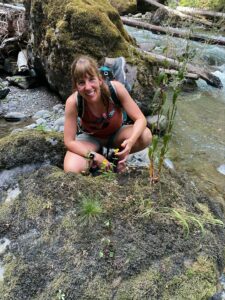 Your instructor for this session will be IslandWood staff naturalist, Christina Conklin. Christina is a Master Birder (Seattle Audubon, 2011), WDFW Wetland Monitor (2014), Certified Beach Naturalist (2014), and Certified Interpretive Guide (National Association of Interpretation (2015), and has been joyfully teaching environmental education for over 20 years.
THINGS TO KNOW
This class is rain or shine, so please dress in layers and always bring a rain layer, gloves and hat at this time of year.
Due to the content and pace of this program, we are listing this as an adults only class. We look forward to building community with all of you in this class. We will offer a family-friendly and kids program like this in the future too, so no worries!
Please remember our campus policy is 'no dogs unless they are a service animal.'
We always cap off our hikes with a sweet treat of our homemade cookies too!